GFNY announces GFNY Ann Arbor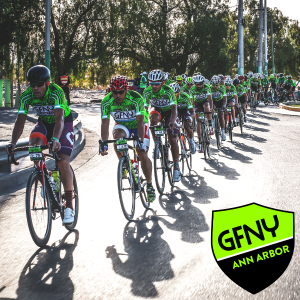 Scheduled for June 2022, GFNY expands its US race calendar with GFNY Ann Arbor in the Midwest
GFNY Ann Arbor is the latest addition to the GFNY Endurance Sports Series, making it the fifth GFNY cycling race in the United States.  Scheduled for June 12, 2022, riders will get to ride a flat and fast 100-mile course through beautiful midsummer countryside.
Located in the South of Michigan and surrounded by the Great Lakes, the wonderful host town of Ann Arbor will be the expo location as well as start and finish for the race. Ann Arbor is a university city with an international food scene and lots of surrounding nature. 
The scenic race course starts at Ann Arbor's local ice rink and explores the country roads of Michigan where riders will get to see creeks, rivers and lakes. The long course is 100 miles and consists of a 40 mile double-loop along Sharonville State Wildlife Management Area and through villages like Manchester and Bridgewater. 
"We're excited to add a new race in the home country of GFNY," says GFNY President Lidia Fluhme. "We've always had a strong contingent of Midwesterners at our World Championship in NYC so it was only logical to bring a GFNY to them. It's for them but of course also our national and international riders who enjoy traveling to and exploring new areas by way of racing
Website: annarbor.gfny.com
About GFNY Global Endurance Sports Series
GFNY Global Endurance Sports Series is a sports event company with three decades of experience in racing, planning and organizing events. The global endurance sports brand hosts multiple events throughout the year around the world on five continents.
Working with partners around the world to deliver a first-class experience, GFNY Global Endurance Sports Series puts their athletes first.
Cycling
20 plus events around the world. View the 2021-2022 calendar here
Riders get to BE A PRO FOR A DAY ® by competing against others, themselves and the clock in a personal endurance challenge.
Top 10% (20% at regional championships) of finishers in each age group qualify for the Racer Corral at every GFNY World event.
GFNY World Championship NYC
The 10th annual GFNY World Championship New York will be held on May 15, 2022. The race features the world's most international peloton with riders from over 90 countries. Athletes take on a challenging 100-mile route from NYC to Bear Mountain to Fort Lee to compete against each other, the clock and themselves in a personal endurance challenge.
The official GFNY website is: www.gfny.com.
Further Material for Media Use
GFNY Press Images: here 
GFNY Results: here
GFNY World calendar graphic: here
Previous GFNY press releases: here
Media Contact