GFNY announces GFNY Krabi
GFNY announces GFNY Krabi
February 26, 2023
The Course
Ao Nang Landmark, Krabi's beach-front shopping, dining and entertainment center, will serve as the Race Village of GFNY Krabi. The start line is located directly aside Krabi's most famous, central and prominent beach, Ao Nang Beach. A sunrise over pristine blue waters, gently splashing waves, longtail boats, and stunning limestone formations will provide a sense of tranquility before the adrenaline rush of the race kicks off.
After a short stretch along the coast, the course turns inland, with both long and medium riders racing through the center of Krabi City, past the University, and heading to hinterlands of Krabi province along fantastic road surfaces. The start will be fast and feel flat, with a few short, steep climbs to test the peloton.
After 20km, the course split separates the medium route riders, who will turn left and ride along a flat and fast section, and long route riders, who will go straight and start an undulating climb for 5km.
Long route riders will travel on smaller, rural roads, ride past palm plantations and mango plantations, small local villages and lots of twisty roads and rolling hills, all the while enjoying beautiful tropical nature and imposing limestone formations. The rolling hills will be relentless, a course that constantly goes up and down and totals 2125m of climbing over 135km.
Three significant climbs that are longer and steep will challenge you between KM 35 and KM 85 as you race along the foothills of the Khao Phanom Bencha National Park, with views of its imposing 1397m peak and the range's lower peaks sprawled out as far as the eye can see. You'll climb to the highest point on the course, at 212m, along the main pass over the Khao Phanom Bencha mountain range and head back to the coast.
On a parallel road, the medium route riders will take on a flatter and fast course, with one main climb of 10km reaching 120m. Both routes will come together near the remote, wild coast north of Krabi. Keep an eye out for the iconic statue of the reclining Buddha under a cliff.
There is one last short, steep climb before reaching the finish line back at Ao Nang Beach and enjoying the post-race banquet and celebrations.
Join us at GFNY Krabi and be spellbound by the beauty of Krabi, the beaches, the limestone formations, the National Park. Savor the standard of hotels and restaurants and service, while enjoying sport and all the tourism attractions that Krabi has to offer.
Long Route – 135.4 Km / 2115m+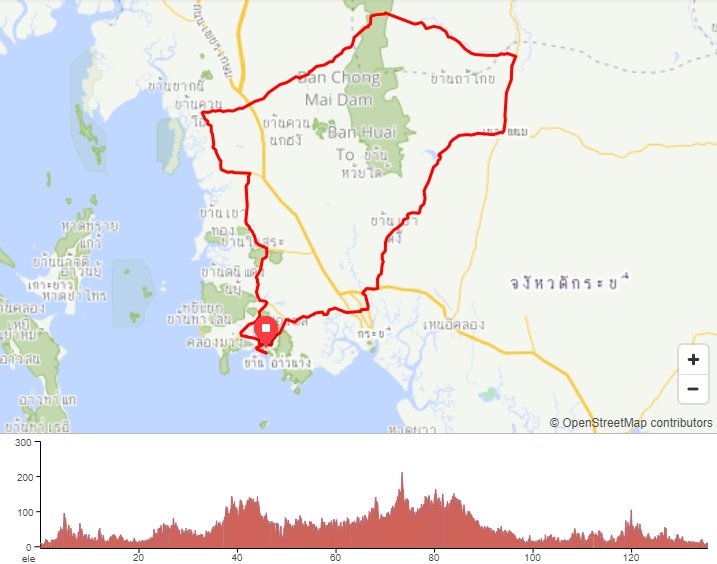 Medium Route – 86.3 Km / 1233m+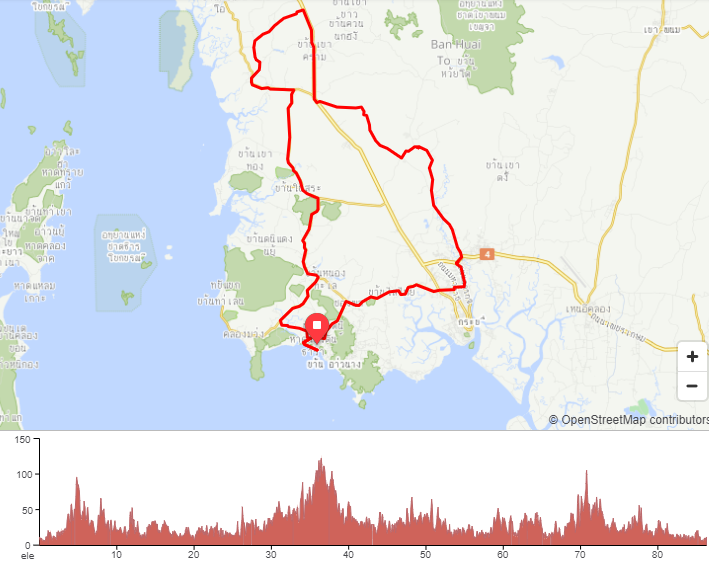 About Krabi
Krabi is one of the most popular tourist destinations in Thailand. It's famous for stunning views, breathtaking beaches and islands, as well as being home to one of the most beautiful coral reefs around the world.
While you are coming here to race GFNY, the city and its surroundings provide great attractions like hot springs, wildlife sanctuary, sea caves, flourishing coral reefs, exotic marine life, limestone cliffs and national parks including the paradise islands.
Krabi also features some of the most photogenic sunsets in Thailand, accompanied by spectacular displays of cloud to cloud lighting, and dramatic scenery with limestone formations at every turn.
Besides the countless nature attractions, there are also cultural activities like temples that will impress you. A full variety of accommodation options, fantastic cuisine and tourism options await for this GFNY adventure of a lifetime.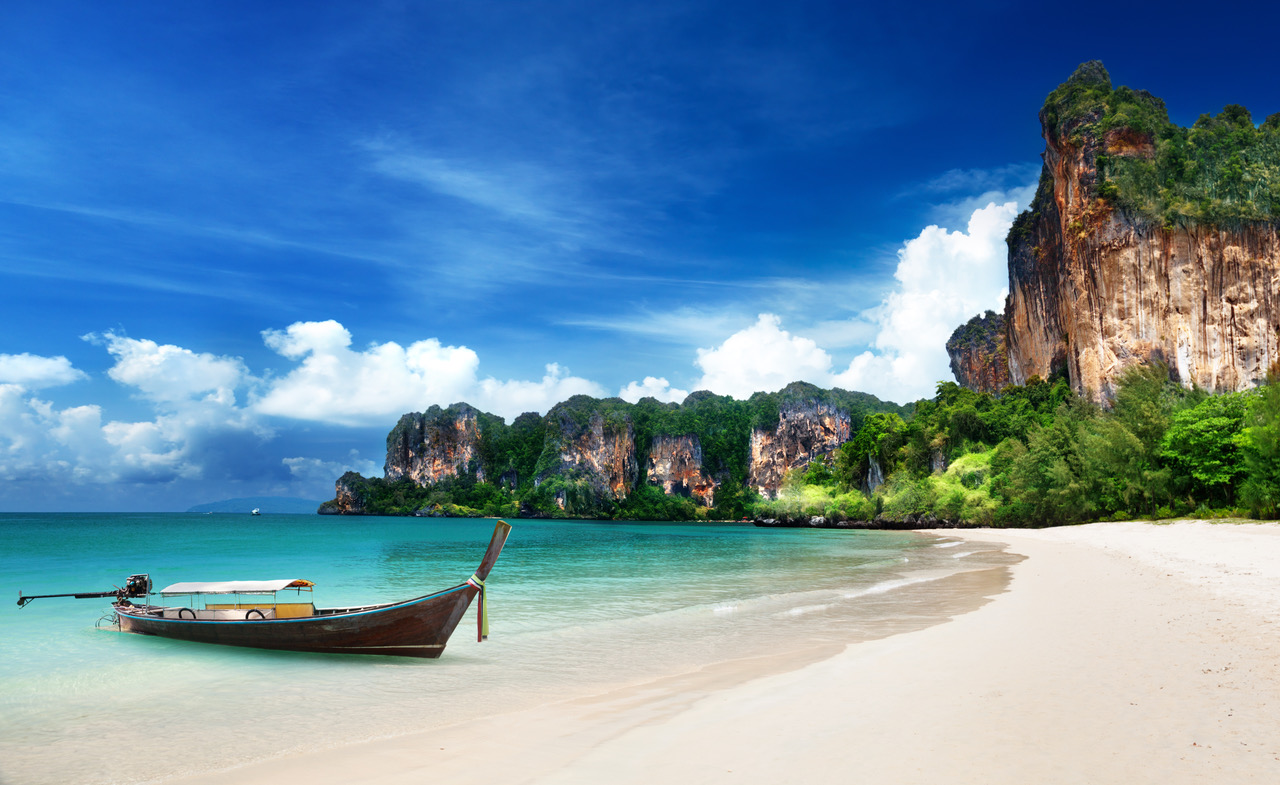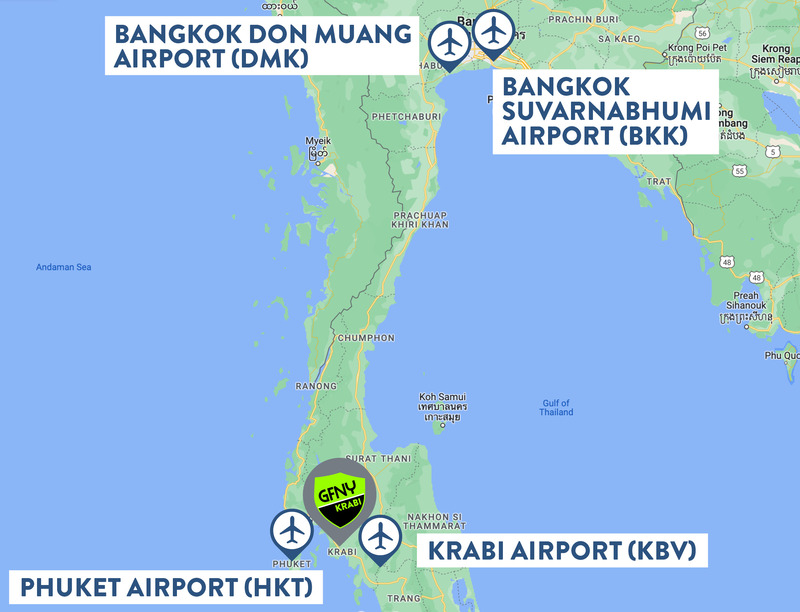 AIRPORTS
The relevant GFNY Krabi airports are:
Suvarnabhumi International Airport, Bangkok (BKK)
Don Muang International Airport, Bangkok (DMK)
Phuket International Airport (HKT)
Krabi International Airport (KBV)
Krabi has several direct flights from Asia, Australia and Europe. Flight Times from:
Singapore 1h30
Hong Kong 1h30
Kuala Lumpur 2h
Perth 4h
Europe 11h
For other international travelers, we recommend flying into Bangkok (BKK, DMK), and connect onward to a flight to Krabi (KBV) This presents an ideal opportunity to stop over in Bangkok to visit the capital of Thailand.

Combine the race with a stay in Phuket by flying into the international Phuket airport (HKT) and take a 2hr30 taxi to Krabi.