GFNY announces GFNY York, Pennsylvania
GFNY announces GFNY Pennsylvania York
September 10, 2023
The Courses
GFNY Pennsylvania race week activities take place at the centrally-located York Expo Center. You will be picking up your race packets and enjoying the post-race festivities, music, awards and post-race meal at Horticultural Hall. The start and finish will take place inside the York Expo Center property, just steps away from Hort Hall, making race day planning for you and your supporters very easy. With ample on-site parking and 1 mile from Downtown York, you'll be at the heart of it all.
The race starts at the York Expo Center, then you will head west for 10 miles along well-paved roads into the York countryside before taking on a 35-mile loop. Ride past farm fields and wooded hillsides. The rolling hills vary in height from 200ft to 1000ft in altitude, serving you one challenge after another, with only the descents to provide some rest, and no flat riding in sight. The scenic beauty will leave you in awe but the hills will put a sting in your legs.
Relish in the climbing, descending and fun of cycling along impressive nature like Gifford Pinchot State Park and its Pinchot Lake, along the winding Conewago Creek, along the base of Roundtop Mountain, past rocky ridges and through majestic forests and river valleys. York County is the foothills spanning from New York to Alabama, the hills turn into mountains to the west and coastal flat to the east.
Long route riders repeat the loop a 2nd time before heading back to the finish line at the York Expo Center, where the post-race festival awaits you.
Long Route – 94.6 m / 6169 ft+
Medium Route – 58.3 m / 3630 ft+
About York
Scattered beautifully among the rolling hills as far as the eye can see are the land and houses developed in a way that resembled the homeland of the German immigrants in the 1700s. Hidden gems await throughout the north, south, east and west countryside of York County, with exquisite restaurants, breweries, wineries, coffee roasters, charming towns, unique shops that will delight you and make your stay memorable.
The "Maker's Spirit" is at the core of York, with a long history of various production plants being located in York, from Utz to Harley Davidson to hydropower water turbines to one of only four Starbucks roasting facilities in the world. York has a heritage of doing work with your hands, which also carries to artists and artisans.
Home to hills, valleys and rivers, York County is the ideal place for your cycling getaway. The nature of York will impress you and challenge you. Sightsee York County by bike and Downtown York on foot and enjoy beautiful York, Pennsylvania.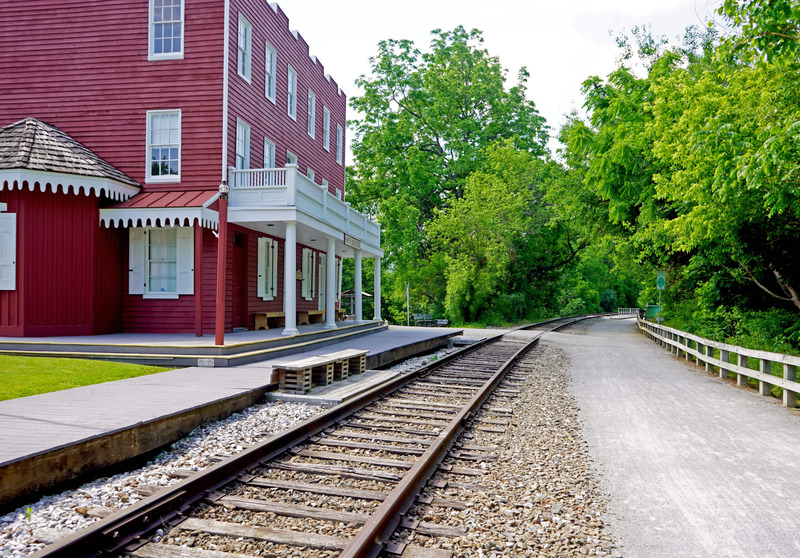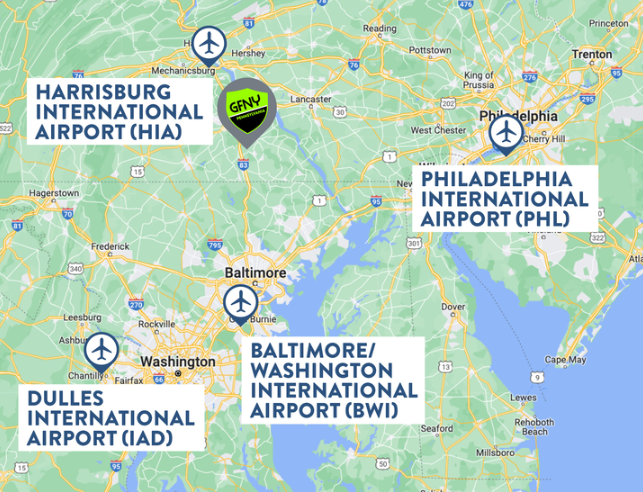 Airports
Traveling to York is very easy. There are 4 nearby airports that you can fly into, which gives you a lot of flexibility.
Many car rental options are available at each airport to make your trip to York fast and easy. Here are the distances to York from the nearby airports:
Baltimore – BWI – 50 min
Harrisburg – HIA 45 min
Philadelphia – PHL – 1:30h
Washington Dulles – IAD – 2:00h
By Train:
Traveling by Amtrak train is comfortable and affordable. You can bring your bike onboard, but note the bike policy
Lancaster – 30 min drive
Harrisburg – 45 min drive
By Bus:
Greyhound has a station in York.